Nickel Cadmium Battery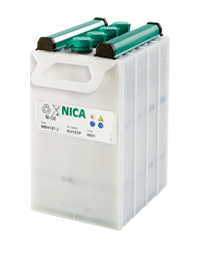 Model: Sol Range - Solar Battery
---
Sol Range Ni-Cd batteries are purposely designed to provide the ideal energy storage solution for RES (Renewable Energy Systems) such as PV (photovoltaic) and wind power applications.
---
Features and Benefits
Sol Range offers a number of advantages beyond the limits of conventional batteries:
Operation in extreme temperatures: -20 °C to +50 °C (but can tolerate extremes of temperatures of -50 °C to +70 °C)
Long life-cycle
Charge efficiency: performs at any charge of charge
Cycling: achieves 8 000 cycles at 15% depth of discharge
Low maintenance: more than 4 years without topping-up - specifically rated for discharge times from hours to days
---
Applications
Photovoltaic energy systems
Solar & wind hybrid systems
Navigation aids, signalling , offshore and remote lighthouses, beacons and buoys
---
Capacity Range
---
Pocket Plate Technology
Pocket plate: the positive and negative electrodes consist of perforated steel pockets. Nica Sol construction is designed specially for photovoltaic applications.
---
<< Back to previous page