Uninterruptible Power Supply (UPS)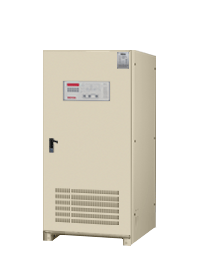 Product: NP3031 Series
Model: 10kVA - 120kVA
---
NP 3031 series are single-phase output. A true on-line double conversion UPS system design that offers extensive features and benefits, normally found on larger systems. The preferred choice by professional users demanding total control of their power environment without the trade off of high level monitoring, flexibility, reliability and serviceability. It is suitable for applications in computer and data processing, telecommunication systems, utility and communication control rooms, and industrial process control.
---
Key Features
IGBT technology
Digital control
True on-line double conversion
Progress Battery Management (PBM) with temperature compensation
Individual phase control of inverter voltage and current
High frequency PWM giving instant respond to changes in load conditions
Integral static and manual bypass
Low noise and heat rejection
Safety and protection to meet the highest industrial demands
Microprocessor controlled LCD mimic and control
RS232 and RS485 communication ports
SNMP protocol
Voltage free contacts
---
Applications
Computer and data processing
Telecommunications systems
Utility and communication control rooms
Industrial process control
---
Options
NP 3031 series have many forms of communication and interface that are required by the professional user to ensure total control of the power environment supplied to the critical loads.
The major features include:
Measurements of voltages, currents and Battery voltage
Remote user connection / Remote monitoring
Operation model LED's
Emergency power off (EPO)
Alarm battery discharged
Alarm relay board
Battery boost charge
Software / Interface
---
<< Back to previous page