Sealed Lead Acid Battery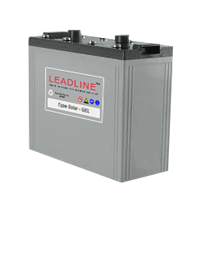 Model: Type Solar - GEL
---
The Leadline Solar Battery range are designed specifically for the renewable energy applications that demands long life, deep cycle, low internal resistance, superior charge acceptance and energy density. Constructed in a tightly packed plate, these batteries are capable of withstanding a high degree of shock and vibration; well-suitable for mobile applications It is suitable for applications in telecommunication, telemetry, solar power system, wind power system, navigation aids, street lights and more.
---
Features and Benefits
Terminals cast from copper alloy for better electrical connections
Maintenance free throughout battery life
Positive plated lead calcium alloy and negative plated lead calcium
Non spillable battery, for mobile application
No protruding or exposure of vent valves
---
Applications
Solar power systems
Wind power systems
Telecommunications
Village power
Medical refrigeration
Telemetry
Navigation Aids (sea and air)
Residential homes and offices
Traffic systems and lightings
---
Capacity Range
Block 6V-12V: 34Ah - 246Ah
Cell 2V: 534Ah - 915Ah
---
Technology
Leadline Solar Batteries provide users superior reliability, high performance power, and extended cycle life.
---
<< Back to previous page